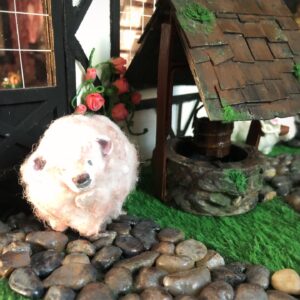 Have you ever wished for a wishing well? My daughter did just that and so I set about making her a miniature one. She requested it be for the Tudor dollhouse – a girl after my 16th century heart. Here's how I made it.
Base of the well
I have been refusing to toss an empty plastic ribbon roll for months. It's made its way around the house resting on various parts of the floor, on bookshelves, craft bins, and finally, onto my workspace table. This plastic "trash" was perfect for my well base.
I knew I wanted to cover it and make it look like stones. I could glue real rocks, but they are heavy and require either hot glue (might melt the plastic), superglue (might fuse my fingers) or days of drying regular school glue. 
Being thrifty, and well, too tired to search around the house for ideas, I spotted the air dry clay box beside me. It comes in a variety of colours and little bags to put away opened clay. However, having been opened for months, several of the bags of clay were dried out, but still had a little flex. Just enough to be able to cut the clay into rock shapes. 
Having had a lot of luck painting the air dry clay for my Modern Marie fireplace, I set about gluing vibrant orange and pink "rocks" to the sides of the ribbon roll. There's no getting around it. It was frustrating. I used a glue stick and as I tried to snuggle the rocks close together, the other ones would pop off. Eventually, all were glued on and I felt good about finding a use for the dried up clay. To make everything secure, I covered everything in a layer of Mod Podge and let it dry overnight. By morning, it had set up wonderfully.
I then painted the rocks with layers of paints and colours and filled in the gaps with puffy paint. I cut a piece of cardboard into a circle shape and placed it at the bottom of the well to cover the little hole on the ribbon roll.I then painted it with deep blues to resemble water.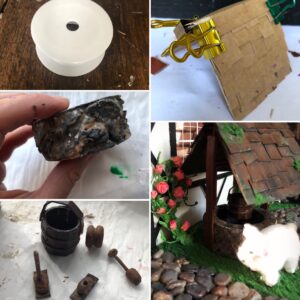 The roof
Can you guess what I made the roof from? A cereal box! I cut a small rectangle out, folded it and with just a glue stick, began covering it with more cereal box shingles. I overlapped them to add weight and strength to the cardboard. Once dry, I painted it with layers of browns and blacks until it looked weathered. I painted on green moss and then added little bits of green furry fabric. 
The structure
I began with stir sticks but they were too flimsy and kept breaking apart. It may sound odd, but I turned back to my cereal box. Cardbox gets stronger the more it is stacked. I did three layers, painted and Mod Podged which set up well and felt very similar to wood. 
 I was going to stop here, but a little overly ambitious thought kept nagging me. "Make a bucket," it said and, "make it work. Figure out a pulley system." I couldn't ignore it! That would be so much cooler!
I decided to go to one of my favourite historians, Ruth Goodman, for help. Sadly, I don't actually know Ruth but I have watched her special Secrets of the Castle enough to know that they work on a well in one episode of the program. I pulled the video up to watch and decided I could make a pulley with air dry clay and a toothpick. I also used wood stir stick bits to hold it in place.
The bucket was a design I had already made and so making a second one wasn't too much effort. It uses an old glue stick lid, cardboard, glue and paint. Read more about it here.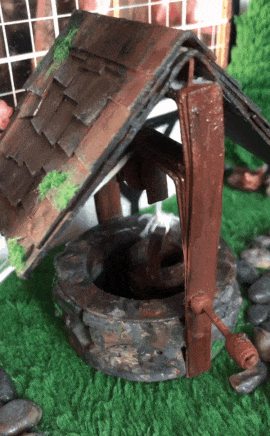 Finished product 
I'm very happy with the well! My daughter will enjoy it too as it adds another layer of imaginative play to the Tudor dollhouse. I think what I love the most is how it was made completely from items that would have been recycled or ended up in landfill. They also cost me nothing except my time (but I love making miniatures and find them excellent for stress relief). I'd say this project went very well. Did I just pun? I did. Aren't I a bucket of laughs? Well, we all have our ups and downs.
Further learning
This link below, around the 20 minute mark, shows a recreation of a medieval well in use from the program Secrets of the Castle.
Timeline – World History Documentaries, "Can We Build A Castle With Medieval Tools? | Secrets Of The Castle | Timeline," YouTube video, July 23, 2018, 58:50. https://www.youtube.com/watch?v=ydoRAbpWfCU

---
Published on June 15, 2022