Making a bucket from a glue stick lid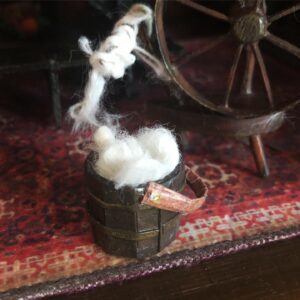 I use a lot of glue sticks making miniatures and I dislike tossing away the plastic tubes and lids. I try to repurpose these sorts of items as much as possible in my miniature makes.
I've used the lids to make flower pots and tree trunks before, but this time I wanted a wooden bucket. I didn't want it to simply look like a painted plastic lid. Thankfully, I had some cardboard scraps from a cereal box next to me!
I cut thin strips of cardboard making them similar in length to the lid. Using a new glue stick, I stuck the cardboard strips around the lid until it was covered. To help hold it all in place, I cut two ultra thin strips and glued them around the bucket. I trimmed all the cardboard.
I painted this in a mix of browns and blacks to create a wood effect. The bands around I painted in gold using a paint marker. I then blended it a bit to make it look well used.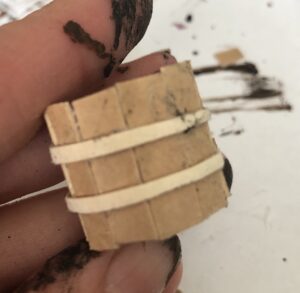 The handle
The handle is also cardboard that has been cut thin. The one pictured (above left) I covered in a printed image of wood grain, because it was an extra scrap at my workspace. I then sealed it with Mod Podge. My second bucket handle did not use the wood grain image. I simply painted it and that worked out well. I then made the handle into an arc shape by creating small folds. I glued the tips to the bucket to create a handle and added a little more Mod Podge to seal it.
Using a black Sharpie and my gold marker pen, I made little dots to look like nails. That's it! A cute little wood bucket made without any wood!
---
Published June 15, 2022