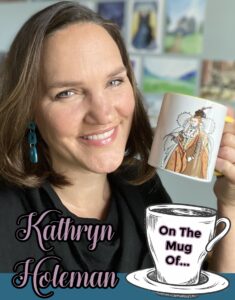 I'm so excited to interview my friend Kathryn Holeman. Kathryn is a fantastic artist and a Tudor enthusiast, but has many interests which can be seen in her beautiful fan art. She often paints in watercolour, but is skilled in many mediums and also creates amazing digital illustrations. We are currently working on an upcoming Tudor Christmas book together and hope to share more information about that soon. Have a look at the links below to see where you can purchase her art and her Elizabeth I mug of her own design.
Interview
Laura: Welcome. Let's have a virtual, pretend, caffeine break together. Are you drinking coffee, tea or something completely different?
Kathryn: Thank you so much for having me! I am definitely drinking coffee, with milk and no sugar. I have nothing against sugar though. I had plenty of it by way of ice cream last night. 
Laura: (Laughs) Love it! That's exactly how I roll too, ice cream and all. 
(Laura drinks from her colourful owl mug with both hands as though coffee is a medicinal elixir, which in many ways it is, no?)
Let's start things off by sharing what's on your mug.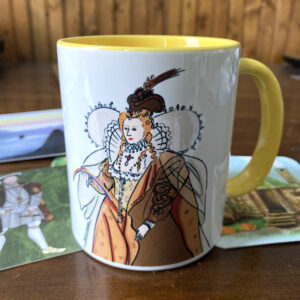 "On the mug of Kathryn Holeman is one of my drawings of Queen Elizabeth I, based on the famous Rainbow Portrait. The other side of the mug has the Latin inscription found on the painting:

Non sine sole iris

which translates to

no rainbow without the sun

." – Kathryn Holeman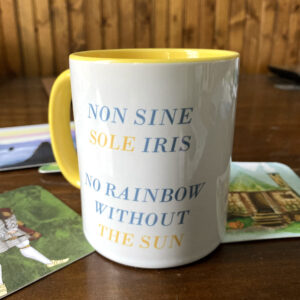 Kathryn: I was excited to see you just created your own edit of this gorgeous painting! There is so much symbolism here, which you unpacked in your recent blog post. Three cheers for adding the rainbow back in! (Takes a swig of her third cup of coffee.)
Laura:  Thanks. I do love symbolism and I love that mug. Tudor and rainbow, what's not to love? I've nicknamed it the Sunny Tudor Fun Times Mug…and I've clearly had too much coffee today. (Laughs)
Anyway, you are such a talented and inspired creative. Have you always wanted to be a professional artist? 
Kathryn: Yes! Although I didn't realise I could turn it into a profession until my early 30s. I have been drawing ever since I could hold a pencil and majored in fine art in college. In New York, I worked at Random House as a book designer and when I moved to Philadelphia, I was a graphic designer for a non-profit organisation. It wasn't until I became a full time freelance designer that I picked up my brushes again and revived my Etsy shop. I am so grateful for the connections and friendships I have made in the Tudorsphere and other fandoms. A decade later, I am a published illustrator and I sell my art online all over the world and in person at regional Renaissance Faires. 
Laura:  I hear the saying, "Do what you love," often and you are! That's wonderful!
You have a wide-range of fandoms and styles you capture artistically in numerous mediums. Do you have a favourite type of art to create? 
Kathryn: I do have a lot of styles and fandoms don't I? I think my favourite medium is watercolour with ink and my favourite paintings to create are re-imagined scenes from beloved films and literature. After the Tudors, my next favourite fandom is anything to do with Jane Austen. I could paint those landscapes and romantic moments for days! I also love making fan art for high fantasy stories like Lord of the Rings, Game of Thrones, and Outlander. What other shows or books should I feature? 
Laura: Well, I see you've started some fan art for The Witcher which is one of my favourites. I also have a huge list of fandoms and could daydream about this for days. (Laughs) For a throwback, Buffy, the Vampire Slayer art would be epic, or Gilmore Girls and some 1995 Pride and Prejudice. Of course anything with Han Solo front and centre and you already know I absolutely love the legends of Robin Hood! So many options…
You do wonderful Tudor art and recently started a new Instagram account @thetudorartist. What specifically draws you to Tudor history? (Pun very much intended.)
Kathryn: The drama! The intrigue! The scandal! The real stories are stranger than fiction, aren't they? Specifically, and more artistically,  Holbein's work truly draws me in. His realistic figures allow us to catch a glimpse of the real people who lived and breathed. Stare into Thomas More's eyes for too long and you might slip back in time! 
Laura: Hopefully they don't move. (Laughs) I agree and admit I have a historical crush on Holbein. Which is the perfect segway into my next question. 
Let's pretend Hans Holbein is too busy and needs you to create a portrait of someone from the Tudor court for him. Who do you volunteer to paint and why?
Kathryn: Anne Boleyn. 100%. It would be amazing to know what she actually looked like and I would do my best to capture her true essence. That and I think we would have a lovely chat during the sitting. 
Laura:  I'm excited just imagining it! Alright, here's a question I like to ask everyone. You can dine with any one fictional character. Who is it going to be and what are you going to eat and discuss? 
Kathryn: Bilbo Baggins, before the fellowship but after his time with the dwarves. I have always wanted to visit the Shire and I could listen to his stories for hours. We will have bread with lots of butter, sausages, cheeses, some green growing things, and a little wine too. Maybe Gandalf will join us for some pipe weed. 
Laura: How whimsical! The Shire does seem like a magical place. Here's another question I think is fun. You find an old, metal key. Does it unlock a door to a haunted museum, a secret library or a magical garden? Will you step through that doorway?
Kathryn: Magical garden. I am happiest in a garden and I love the idea of magic. I will absolutely walk through but I probably won't touch anything. 
Laura: (Laughs) Keep your hands inside your pockets at all times. 
Alright, so we haven't announced anything official yet, but you and I have been working on an exciting project together for MadeGlobal Publishing. You recently completed the illustrations for our upcoming feel-good Tudor-themed Christmas book, 'Twas The Night Before Tudor Christmas. I'm sure we will talk about it more at a later date, but did you have a favourite part of working on the book?
Kathryn: I loved bringing a bit of fun to a typically serious subject. We don't see a lot of picture books about the Tudors so this was a chance to introduce a new audience to Tudor history. I enjoyed combining information about Tudor-related traditions with the light-hearted joy that comes with a Christmas story. Specifically, I loved drawing Anne Boleyn's dog, Purkoy. I think he has a good time in this story! 
Laura: I think he does too! I'm glad you enjoyed creating the illustrations. I can't express the joy I felt seeing your illustrations bring my words to life. 
While we're on the topic of Christmas, do you have a favourite holiday? And is there a tradition associated with it you particularly enjoy?
Kathryn: My favourite holiday is Christmas. I love the weeks leading up to Christmas Day and all of the decorating and baking. The anticipation is so magical! A newer tradition that we started during the pandemic is that my family and I make a holiday home movie spoofing a few of our most loved films. If you'd like to see me dancing like Hugh Grant in Love Actually or running like Cameron Diaz in The Holiday, you can have a look at my Youtube channel. 
Laura: That's fantastic. I enjoyed watching them. They're a lot of fun! I also really enjoy the art tutorials you have on your channel. They are so calming. 
Well, unfortunately there's a lot of devastating news and the last two years have been hard on everyone. Do you have a favourite positive quote you can share? 
Kathryn: From Amanda Gorman:
"For there is always light,
if only we're brave enough to see it.
If only we're brave enough to be it." 
Laura: That's beautiful. I really like that one. Great choice. 
Well, thank you for the coffee break! I always enjoy our chats. 
---
Links for more Kathryn Holeman
---
Published April 29, 2022