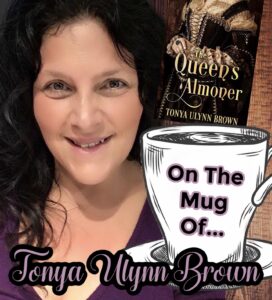 I am so excited to start this interview series off with a good friend of mine from Instagram, author Tonya Ulynn Brown. Tonya is the very talented author of the historical novel, The Queen's Almoner, which focuses on the life of Mary Queen of Scots.
I feel so fortunate to have also beta-read two of Tonya's upcoming novels The King's Inquisitor and What the Ocean Brings. Her writing is fantastic! I love the amount of detail and research she does to ensure her novels are not only paging-turning, but also historically accurate.
Interview
Laura: Welcome, Tonya. Let's have a virtual pretend coffee break together. Or do you prefer tea?
Tonya: Tea! I only drink my coffee over ice. (Smiles)
(Laura wipes virtual crumbs from mouth and sips imaginary coffee which will undoubtedly still find a way to stain her shirt.)
Laura: I love both! Let's start things off by sharing what's on your mug. 
"On the mug of Tonya Ulynn Brown is the Scottish thistle."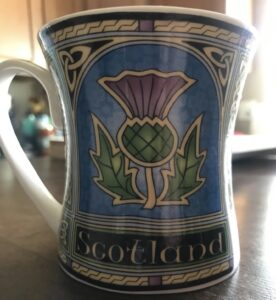 Laura: I should have guessed! I love it. So let's begin! What sparked your interest in Mary Queen of Scots? 
Tonya: Her tragic life. I often wondered what made such a beautiful, intelligent woman make such poor choices. 
Laura: Yes, tragedy and mystery really draw me to certain people in history too. *fake cough* Anne Boleyn. *fake cough* 
Here's a fun question. If you could bring back one bit of history (food, invention, clothing item, etc.) that we no longer have, what would it be and why? 
Tonya: The clothes. I love the long, gorgeous gowns and wish we still dressed like that today.
Laura: Yes! I suspected that would be your answer. Jeans and a hoodie really don't have the same feeling as those billowing gowns.
Other than 16th/17th century history, what other historical periods interest you? 
Tonya: The colonial period of America and particularly America's War for Independence.
Laura: Interesting. Do you think you'll ever write a historical fiction centred around that period?
Tonya: I've considered it. I already have a plot in mind for one but I've just never sat down to actually write it. It would be sort of a time-travel historical romance, if it ever happens. 
Laura: Oh that sounds great! Here's another fun question. If you could go shopping with one person from history who would it be and what would you shop for? 
Tonya: Marie Antoinette. We would shop for clothes, of course!
Laura: That sounds amazing! I thought you might choose Mary Queen of Scots. I have a fascination with Marie Antoinette. The styles of her time are incredible!
Tonya: Yes! I love the 18th century clothing. It has got to be my favourite period. Even the men look beautiful. 
Laura: They really do! Alright, you can plan the perfect three course meal without limits. What are you going to eat? Feel free to choose a fictional dining companion too.
Tonya:  I'm not sure what meal I would plan. But if I could dine with Thomas Jefferson I wouldn't care if we were eating pizza.
Laura: (laughs) Pizza is always delicious. 
You love Scottish history! Do you have Scottish ancestry or what is it that draws you in? 
Tonya: I do have Scottish ancestry. I am related to American president, James Buchanan (he's a great uncle–he never had children) and was excited when I was able to trace our Buchanan ancestry to Stirlingshire, Scotland, which is where the historian and scholar, George Buchanan was from. I'm making a big assumption here, but I'd like to think there is some connection seeing how the family came from there. Although Goerge Buchanan was a vehement opponent of Mary Stuart, I was excited to find that connection.  
Laura: Interesting! I love how technology has made tracing our family trees so much easier. It's fascinating to research.
Alright, silly question coming. A haunted museum, a secret library or a magical garden – which place are you most likely to visit? 
Tonya: I'll take the secret library. I don't do well with the thought of ghosts, and I have a black thumb. I kill practically anything I've ever tried to grow. 
Laura: (laughs) Library it is! Do you have any rituals or habits you find crucial to your writing process? 
Tonya: Not really, although the sound of a burning fireplace and a cup of hot tea can definitely get my creative juices flowing. 
Laura: I agree with that. I am always happiest holding a warm drink. 
Last question. Any news on upcoming projects you're excited to share? 
Tonya: The next book in my Stuart series, The King's Inquisitor, has been submitted to my publisher. It is a continuation of the Broune family and their service to the Stuart crown. The North Berwick witch trials, which happened in the earlier days of King James VI's reign in Scotland is the backdrop for this story. I'm hoping it will be released later this year. 
Laura: That is so exciting! I'm thrilled for you and having just beta-read it, I'm excited for others to read it. It's definitely a page-turner.
Well, thank you for the caffeine break, Tonya! 
(Laura stares at her empty mug of coffee as though it can somehow magically refill itself. )
I look forward to reading your future novels. You'd better get writing. (Smiles.)
Find Tonya online 
Website: www.tonyaubrown.com
Instagram: www.instagram.com/tonyaubrown
Twitter: www.twitter.com/MrsBrownee2U
Facebook: www.facebook.com/tonyaubrown