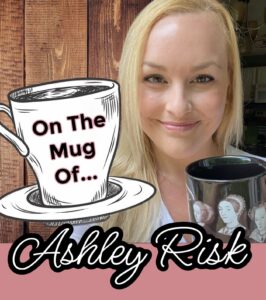 I am so excited to interview a good friend of mine, fellow Tudor enthusiast, Ashley Risk. Ashley is the very talented creator of the Tudor portrait edits (and Tudor memes!) on Instagram at @faketudorhistory as well as the administrator of The Anne Boleyn Obsessed group on Facebook. I feel so lucky to have met Ashley online during the beginning of lockdown pandemics. Together we even did a research project to attempt to re-identify the Royal Collection Trust miniature portrait of a Tudor Queen most often labelled as Katherine Howard. We both believe the portrait is Anne of Cleves. For more information on our project please click here or if you can watch our presentation here. 
Interview
Laura: Welcome, Ashley. Let's have a virtual pretend coffee break together. How do you take your coffee?
Ashley: I take mine with coconut milk, stevia, and cinnamon. And in large quantities. Thank you for having me!
Laura chugs a massive sip of coffee from her overly large, pink floral mug.
Laura: Thanks for chatting with me. Let's start things off by sharing what's on your mug. 
"On the mug of Ashley Risk is Henry VIII and his six Queens."
Ashley: I run a Tudor history fan group on Facebook and have an Instagram account dedicated to Tudor history. My obsession with Tudor history has spilled over into my house in the form of collectibles including this mug. I wanted to point out that when the mug contains hot liquid, the queens fade away to reveal how each of their marriages to Henry ended. Maybe a tad macabre for a breakfast beverage vessel. 
Laura:  I have the same mug! It's certainly a head turner. (Laughs) Oh dear, moving on. What sparked your interest in Tudor history?
Ashley: When I was around 12 years old I read a copy of Horrible Histories by Terry Deary. It was all about the "Terrible Tudors", as the book playfully described them. Instantly I became enraptured. I read everything "Tudor" I could find.  When I turned 18, I was finally able to travel to England from the United States, and explored the historical sites I was familiar with from my readings. I felt like I was home. Over the years my love for the 16th century, and for England in general, has only grown. 
Laura: I know what you mean and I have a boxed set of those books too. Alright. Fun question. If you could bring back one bit of history (food, invention, clothing item, etc.) that we no longer prioritize, what would it be and why? 
Ashley: Hats. I love the look of hats from various time periods. They are pieces of art in their own way. Not just that, but they are also practical for those of us who are prone to frizzy hair. Bad hair day? No problem! Cover it with fashion. I grew up watching I Love Lucy; it's still my favorite show to this day. So of all the time periods of hats, the most fabulous in my opinion were the 1950s, most likely due to my excessive Lucy exposure. 
Laura: I love Lucy, too. See what I did there? Other than Tudor history, what other historical periods interest you? 
Ashley: Besides Tudor history, I do have one other historical era which I have been very passionate about over the years. At Purdue University where I attended my undergraduate schooling, one of my degrees was Classical Studies with a particular interest in Roman history and Latin language. The golden age of Rome is an endlessly fascinating time period to study with many parallels to modern times. I have a 3 year old daughter, whom I named Aurelia, which is a Latin word meaning "the golden one." Latin really is beautiful, however the usefulness of my spending 8 years learning a dead language is debatable.  
Laura: I think it's wonderful. I love Classical studies too, though I wish I knew more Latin. Here's another fun question. If you could go shopping with one person from history who would it be and what would you shop for? 
Ashley: What a great question! I instantly know who I would shop with, and the answer is Anne Boleyn! She was THE fashion icon of her day, and was said to have magnificent taste in clothing. I would love to spend an afternoon with Anne Boleyn going jewellery or French Hood shopping. What a dream that would be! Tudor clothing is so lush. I dream of one day being able to wear a full Tudor gown, particularly in a castle….if you're gonna dream, dream big!
Laura: Absolutely! You're such a crafty person. Can you tell me about some of your favourite crafts and how long you've been doing them?
Ashley: Crafts are a stress reliever for me. One of my favorite hobbies is repurposing antiques for modern uses. I started doing that about 15 years ago in college when I was completely broke. I would go to garage sales or find broken antiques on roadsides that I would either fix up or repurpose to decorate my place. Now that I have a three year old, I have an excuse to do crafts all the time and I'm obsessed. My daughter recently got interested in perler beads, so while she makes her own magnificent bead creation, I have started crafting perler-bead Tudor Queens. I may turn them into magnets. Of course I will need to make a version of all of Henry's wives, but here are a couple that I have done so far.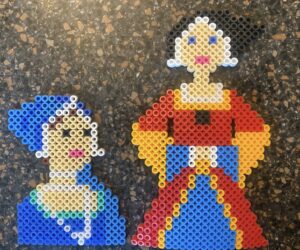 Laura: I love these so much! I like to ask this question. A haunted museum, a secret library or a magical garden – which place are you most likely to visit? 
Ashley: HAUNTED MUSEUM! Can we go right now? Ghost hunting while looking at ancient artifacts? Sign me up!
Laura: Ha! Same. Sounds like the best time ever. Alright, it's imaginary date night time. Who's your biggest crush from history and why?
Ashley: I think you and I have discussed our mutual crush on George Boleyn, Anne Boleyn's brother. George was intelligent and was known as a great poet of his day. Another one would be King Edward IV. Tall, handsome, romantic, bright, royal…I'll have an imaginary date night with him anytime! But I'll pass on a date (even imaginary) with his grandson, Henry VIII. 
Laura: (Laughs) That will be a pass for me too on dating Henry VIII. I think Christina of Denmark had it right when she said, "If I had two heads, one should be at the king of England's disposal." Though I would gladly go for coffee with Hans Holbein the Younger who painted her full-length portrait. Anyway! (laughs) I know we both share that love of searching through antique stores. Can you tell me about your all-time favourite finds?
Ashley: Yes please! I love antiquing and love talking about antiquing! My favorite item to search for in antique stores are portrait miniatures, particularly Victorian ones. Victorians loved their miniature paintings. If you keep a close eye out you can find these beautiful hand painted copies of Tudor subjects. I'm trying to find one of all the Tudor Queens. Here are a few of my most treasured ones.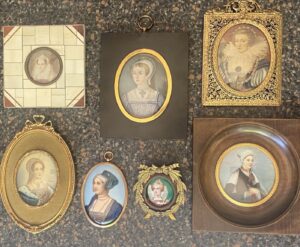 Laura: I love all of those. You have such a great eye for finding them! You make gorgeous graphic creations of historical people. What do you enjoy most about that? Do you have any new projects we can look forward to seeing? 
Ashley: I am very excited to be working on the marketing/images for a new book that will be coming out by a fabulous author. I'm thrilled to share more information on that when I am able to. I have also been working with Rebecca Monet on some fun new projects including creating our version of an Anne Boleyn coronation portrait. As far as my personal work, I am currently working on a life-like portrait edit of Sir Thomas Wyatt, poet from the Tudor times. Here is a sneak peak on how it's going so far.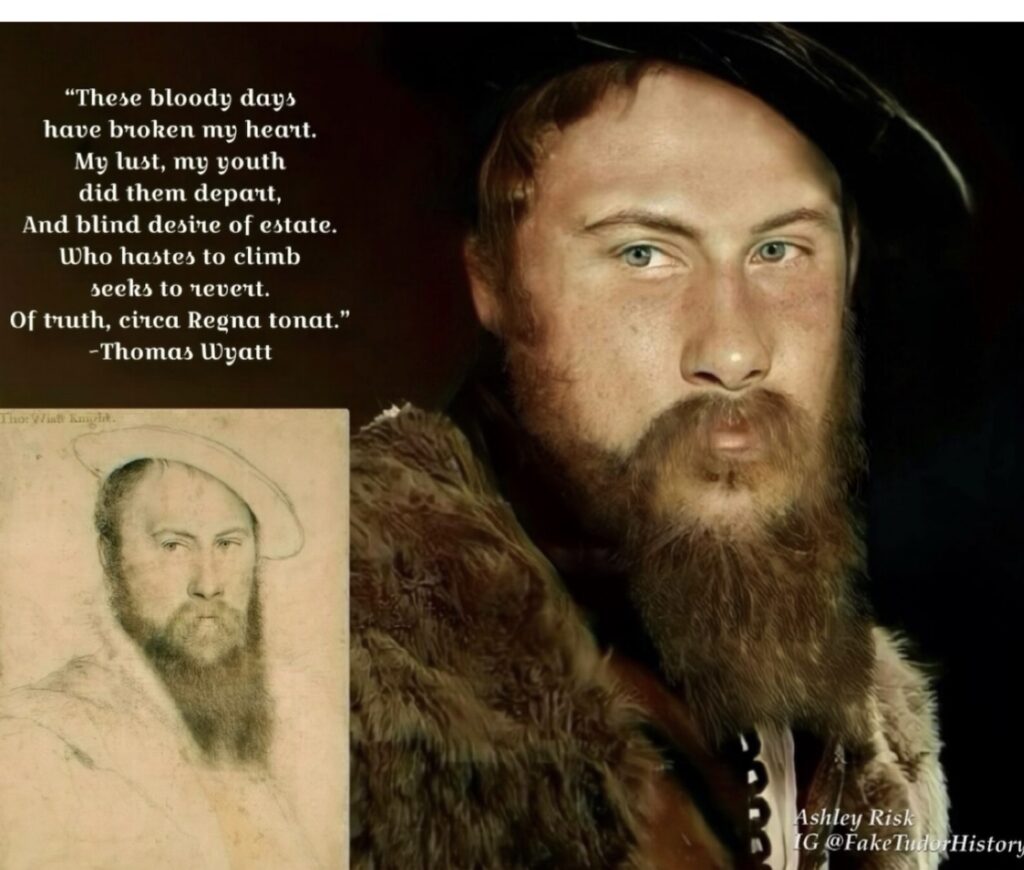 Laura: That all sounds very exciting! I love that edit too and that quote gives me chills. Last question. Do you have a favourite positive quote you can share? 
Ashley: "Do the next right thing." This is a quote that I've seen attributed to several people now so I'm not actually clear on its origin. I can't even remember where I heard it the first time, but it's one of those quotes that pops into my head almost daily. I even heard it recently in the new Frozen movie, which made me so happy. I'm a person who is naturally anxious. I always have been. I get even more anxious when I fixate on mistakes I have made, from small ones to large ones. So for me, this quote reminds me to practice mindfulness, live in the now, and just focus on doing the next right thing I can. 
Laura: I love that too. Fixate on mistakes? Whatever could you mean? Ha! You know I do more than my fair share of that as well. I might need to print this phrase and stick it to my fridge. It's a great one. Easy to remember too. Though I will likely end up singing the Frozen song…
Well, thank you for the coffee break, Ashley! Laura silently debates whether it's too soon to refill her coffee cup. Catch you on social media and message you later.
---
Published on June 6, 2022