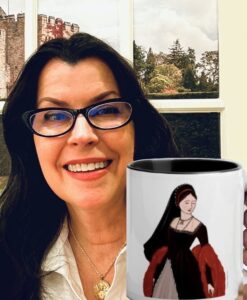 Laura: I am so excited to interview a good friend of mine, Tudor author and enthusiast, Rebecca Monet. Rebecca is an incredible artist and a beautiful writer. Though her last name references Claude Monet, I like to think of her as Rebecca Holbein because she is highly skilled in many areas and her art is photorealistic in its accuracy.
Rebecca: Wow. Thank you, Laura!
Laura: Welcome, Rebecca. Let's have a virtual pretend caffeine break together. How do you take your coffee? Or do you prefer tea?
Rebecca: Thank you, Laura! I love both coffee and tea but it's coffee in the morning. I'd like a cup of warmed organic milk with a cup of unfiltered coffee mixed together (need to keep those oils from the bean for flavour!) . Then a splash of half n half.  I know, it's a little crazy. The organic milk has a natural sweetness that doesn't require sugar, so no sugar please. I love coffee so much…Ode to a Mug of Coffee… and I think of you, Laura, when we first "met" on Instagram –we already shared a love of history, but all your talk of Pumpkin Spice Lattes made me drool; then when you added ghost stories to the mix, I knew we would be friends for life. 
Laura: That's such a unique way to have coffee. Do you strain it before drinking? I'm so curious and always eager to learn something new! I just take my coffee in two steps: strong with lots of milk. I use organic too. 
Laura chugs several gulps of coffee from her beige mug covered in evergreen trees, a lovely bug-free forest.
Rebecca: I'll have it stirred, not strained. They "Bond" well that way. (Smiles) I just got some wonderful Cafe Du Monde French Roast from New Orleans. I'm not surprised we both share that strong coffee/milk combo!
Laura: Let's start things off by sharing what's on your mug.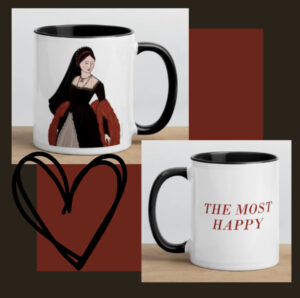 "On the mug of Rebecca Monet is a Katie Holeman illustration of Anne Boleyn."

-Rebecca Monet
Rebecca:  And honestly, it's even more beautiful in person. I know this sounds weird, but it makes me think of a custom burl wood dash board on an expensive race car.  The colours are so rich– the russets and blacks.  I love it. And on the back it says "The Most Happy" so how could I resist? Though I use a Yeti in the morning, I use Katie's mug for tea in the afternoon–and of course, it's got cream–and sugar! Yesterday it held my brand new Downton Abbey Earl Grey and Vanilla.  I think Anne liked that very much! I'm probably slowly killing myself with all my milk and caffeine but I'm going to go down happy with my Katie mug!
Laura:  I think you'll be OK. You're probably just turbo-powering your energetic smile. 
Alright, you are an artist and a writer. Can you tell me a bit about your relationship with each? Do you enjoy one more than the other? 
Rebecca: It's interesting, I've always written stories and illustrated them from as far back as I can remember. You will love this, Laura. One of the first was a ghost story of a little girl who comes back from the past; though she looked suspiciously like Nellie Olson from Little House on the Prairie.  I'd probably be sued, but I can see us both squealing with a flashlight at night as we read it out loud to our 8 year old selves.  The little girl told a modern little girl all about her life in the 19th century. In some ways, things haven't changed much in terms of genre, I guess!
Laura: Sounds like a story I would definitely enjoy (and one I'm working on back burner, if I'm honest)! I recently found my grade 3 portfolio and on the cover I'd drawn ghosts, graves, a log cabin and a pioneer butter churn. (Laughs) 
Rebecca: See what I mean? Oh my gosh–we're a split embryo. (Laughs) Had we been together, we'd still be there sketching and telling stories! But I've always drawn–even to the detriment of my elementary school grades–doodling in class and fulfilling requests from classmates to draw their favourite people from stories or shows. When I finally got to Junior High, and my poor mother was about to give up hope on my grades, she didn't recognize the young girl on the honours list. What seemed like overnight, my grades soared in every area because my new public school had a wonderful art program. Gosh, I should really be a better advocate for that!
And from as far back as I can remember, I loved making paper dolls of people from stories, books, shows or even politics. I remember in the mid 1970's when I was about 10, I made life-sized paper dolls of Charlie's Angels and Amy Carter (our then president's daughter) and placed them all sitting around the table. I'm sure they had a lot to talk about!
I think it is fair to say I have always processed the world around me with both writing and art. 
Laura:  It does sound like that! I think that is partly why we get along so well. And yes, I definitely believe the arts are essential in schooling. I hardly spoke a word until high school drama class! 
So it's safe to say that Anne Boleyn has captured your heart and imagination. I know you enjoy thinking deeply about who she was as a person, so here's an interesting question. What type of pizza would Anne Boleyn order if she could have rung for delivery?
Rebecca: Hmmm…I love that one! Let me think. I'm going to say anchovy. She had a sophisticated pallet. And I love the idea of Henry smiling, though petrified, as he tries it for the first time while Anne tells him it was always Francis I's favourite. 
Laura: (Laughs) I love the visual! I wonder what she would have made of pineapple on her pizza? 
Moving on, other than Tudor history, what other historical periods interest you? 
Rebecca: First I have to respond to the pineapple: you need to take credit for that, Laura! I just read recently that putting pineapple on pizza started in Canada. And that makes sense, because I remember when it first became popular in the 80's; restaurants used to put it together with Canadian bacon. But I had forgotten.
But, to the question: as to other periods of time, I greatly enjoy the history of Flamenco, which goes possibly as far back as the Mongol raiders who invaded what are now parts of Northern India and Pakistan, prompting the inhabitants to flee south through many other regions and eventually across North Africa and into Southern Spain.  All of the influences they encountered brought us what would eventually become Flamenco rhythms, song, and dance, especially the Moorish influence once they arrived. You can especially hear this in the cry at the beginning of the cante, or song.  It sounds like the muezzin's call to prayer and "Ole" most likely comes from "Allah."
The descendants from these amazing people who fled the Indian subcontinent, and gathered up all of these influences, are now the gypsies of Spain and they gave us Flamenco. There are other influences evidenced in the music and cante as well: that of both the Saphardic Jews and Christians. This not only explains what makes Spain a fascinating country, but it offers a broader understanding of the deep roots of the gitanos and their music. In the floreos–or hand movements–and the plantas and tacones (the movements of the feet) of Flamenco, you can see the echo of Kathak dancing.
I love this marvellous mix and I love taking flamenco dance classes. I've been taking it for more than twenty years.  I was blown away when Sarah Morris' modern "Anne" took Flamenco in her very enjoyable book, Le Temps Viendra, but I guess there is something about it that fits Anne's attitude (and maybe mine…). It's very expressive!
Laura: That's all very fascinating! It's not a subject I know much about, but I find it very interesting. 
Here's something silly. Anne Boleyn says to you with a mischievous grin, "Let's prank Henry." What are you ladies going to do that gives the King a laugh and everyone keeps their head?
Rebecca: Definitely short sheeting his bed when I'm pregnant. Ha! OK, maybe he wouldn't laugh..but we would…
Laura:  (Laughs) That's when you fold an inner bedsheet in half so the person can't straighten their legs? (Laughs again) Oh, wow. That's hilarious!
Here's a question I like to ask everyone. You can dine with any one fictional character. Who is it going to be and what are you going to eat and discuss? 
Rebecca:  Bill the Vampire from the Sookie Stackhouse Southern Vampire Series by Charlaine Harris. I like how matter-of-fact I'm saying this, as if it's the most perfectly normal thing, but think: book, not the show (though, I wouldn't necessarily complain if it's still Stephen Moyer…) and because Bill has a personal code not to harm me, I would like to ask him about mid-19th Century America and onward. He has been around for over 150 years. He can't eat, but I'd like to think we are at Galatoires on Bourbon Street in New Orleans. Because of his code, he is having a bottle of synthetic blood, but I'm having crab au gratin with sauteed spinach and Galatoire's Brut Excellence from France. Red wine might bring out the animal in Bill and I have a lot of questions. 
I have a penchant for anything gothic–from the Southern Gothic of Truman Capote to across the pond with Du Maurier. I think those who baulk at Du Maurier probably secretly read her on their kindles under the covers at night…
Laura: "Sookie!" Sorry, I had to say it like Bill does in the TV show. To be honest, now that I've said it, I'll likely say it 10 times before dinner. "Sookie." Oh dear. The meal sounds incredible. I love the idea of safe dining with a vampire. 
Rebecca: You made me truly laugh out loud just now! Oh my gosh, I hear him, too: "Sookie." I saw that first episode. Stephen Moyer–I mean Bill– can say that all day!
Laura: Yes, he does it much better than I do! (Laughs) 
You're such an artistic person! Do you have a favourite masterpiece?
Rebecca: Ok, so when you ask me about my favourite masterpiece, I think of every painting I can get as close as I'm allowed in order to look at all the marvellous exposed underpainting and translucent layers. You've caught me realising I have no one favourite. It's the chiaroscuro of Rembrandt, the shine in the pewter of a Dutch still life or the texture and angulation of the figure in a Picasso–not to mention current artists.
I don't know! Oh my! I really don't! I also love decorative art and sculpture. My "day job" for years–and sometimes even now–was/is decorative arts; I have painted anything from furniture to murals. So, I appreciate many forms of art. 
Laura: I have to say I agree with you, I don't have a favourite piece either and as people we change and grow daily, I think settling down on one piece is nearly impossible! There must be a deep meaning about art itself in the inability to choose specific pieces…
In the meantime, this is another standard, but fun, question I like to ask. I find it very telling. You find an old, metal key. Does it unlock a door to a haunted museum, a secret library or a magical garden? Will you step through that doorway?
Rebecca: Ooooo…it's a real toss up between the haunted museum and the secret library. Can the secret library be haunted please? You know I'll step through the doorway…absolutely! 
Laura: Oh yes, the secret library must be haunted. It's been untouched in years. I wonder what you'll find! (Laughs) I wish it truly existed.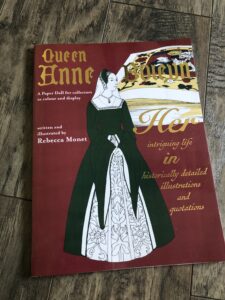 Your lovely Anne Boleyn Paper Dolls book (pictured right) is very unique and creative. Can you talk about your love for paper dolls?
Rebecca: Though I sort of jumped the gun on that one, I'll go a step further and say I look back in wonder because I'm amazed that this is how I insist on exploring who a person is. It seemed like a natural choice. I also love fashion and period clothing, so that is a big factor. I never intended to write a book. I was going to offer a download page and then it simply grew. Because I loved the research and writing as much as drawing, it eventually bloomed into what is now an illustrated biography, really, and one I hope that people who love to read history and dabble with the possibility of colouring a page or two will enjoy as much as I loved creating it. 
Laura: It's both an insightful and creative book. I love mine! Any new projects you can talk about?
Rebecca: Thank you, Laura, that means a lot to me. And yes, actually, I was recently asked to write an article on Anne Boleyn's coronation for the "Tudor Secrets & Myths" Facebook page and like everything-it grew and grew!
I got a "bee in my bonnet" to add some reimagined portraiture of Anne and scenes from her coronation procession and enlisted our friend, Ashley Risk to help me.  In the process, we realised we like–well–the process!! She lays down the image, or "edit," and I sometimes add details by drawing or painting on top.
We discovered how effective and fun this is and we've taken it on the road and recently finished some marketing materials for a wonderful historical fiction writer you and I also know very well: Tonya Ulynn Brown. In fact, she just launched the book. It's called The King's Inquisitor and I know that you and I have talked about what a great storyteller she is and how we both immediately fell into the lives of her wonderful characters. It's hard to put down! And creating the artwork with Ashley was incredibly fun! 
Laura: That is all so great! Tonya is a fantastic historical fiction author and I love seeing the artwork you and Ashley create. It really helps bring history alive!
Last Tudor question. Anne Boleyn pops by your home for the weekend. What's your game plan?
Rebecca: A stop at "Blinde Dog Pub " near my house for an "Irish Queen" cocktail (gin, elderflower and lemon) and I think a nice long walk –right to the old abandoned house near my house that I'm dying to explore.  She seems like a willing accomplice to any fun adventure! (Like someone else I know. From Canada. Who likes pumpkin lattes…)
Laura: Ha! Yes, that all sounds like so much fun. Elderflower and lemon? Fantastic!
Lastly, with everything going on in the world and the past two years, do you have a favourite positive quote you can share? 
Rebecca: My absolute favourite-all-time quote is from Maya Agelou. It offers so much grace: "Do the best you can until you know Better. Then when you know better, do better."
Laura: I love that so much! Well, thank you for the break. I love chatting with you and could (and have!) go on for hours.  
Rebecca: I look forward to the day we can do this in person! I think we'll need a month! (at least)
Laura: I think you're probably right on that! Thanks, Rebecca. Oh one more thing. "Sookie."
Rebecca: Oh my gosh, you know me so well.  Yes, I have been known to rewind that scene when they first meet, just to hear him say that again! (and again…)
Ways to connect with Rebecca Monet
Website:  anneboleynpaperdoll.com 
Instagram: @rebeccamonet2 
Facebook: facebook.com/rebeccamonet2
For more information about Rebecca's Anne Boleyn pendant, visit Lucy Churchill's website here.
---
Published on July 16, 2022.