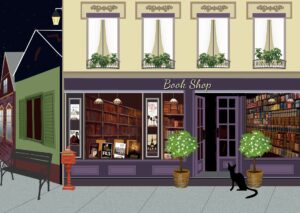 Today, April 29, is Canadian Independent Bookstore Day so I thought I'd share a list of 10 reasons why I love them!

Supporting local
If I can buy something local that's what I prefer to do. It's a good feeling supporting not only local entrepreneurs, but also the authors and artists with items stocked in the shop. I leave with a good book and a good feeling.

Cozy vibes
Walking along a busy city street can be overwhelming, especially if you're sensitive to sounds and bustling energy, but escaping into a bookstore full of books, calm, and like-minded folk, is magical.

Selection
There's a wide selection of books specifically curated to entice a community's diverse and niche interests. There are even bookstores with specialized themes.

Past but not forgotten
Some independent bookstores stock old and gently used books too. This is a great way to find those out of print gems you've been looking for — or that you didn't know existed but need to have!

Eco-friendly and instant
You buy a book and voila — it's yours! Carry a cute reusable tote to put it in and feel good! No cardboard boxes to recycle or oops-not-what-I-thought-it-was purchases to return.

Extra special
If you love books then you know it's an extra thrill to have one signed by the author. At independent bookstores it's more likely to find books signed by local authors as they often drop off copies for the shop. Or you may just bump into them while you're there!

Face-to-face and book-in-hand
Independent bookstores add value to communities by providing a friendly place to shop where you can ask questions, hold the books, and make personal connections before purchasing. It's an experience.

Supporting indie writers
There is a special thrill for authors when they see their book for sale in a store. Independent bookstores provide this joy for many authors, some of who may only see their books online otherwise.

Local hub
Independent bookstores are full of personality and character. And people. And community! Some even involve local artists for special events like craft fairs and serve coffee. Many have social media accounts where you can learn more about special events and sales.

Personal touch
The voices of owners, staff, customers, authors, artists, and the community are heard and represented. At independent bookstores you can speak to a person, not an algorithm, which I find refreshing and fun.

Bonus reason: They sell books and books are awesome.
There are many events happening today for Canadian Independent Bookstores Day. For a comprehensive list of independent bookstores, please see this list from the Canadian Independent Booksellers Association: https://cibabooks.ca/bookseller-map.