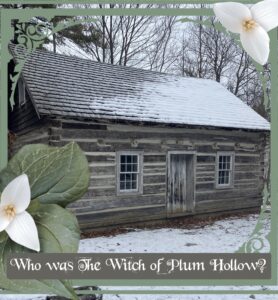 The history of "witches" is plagued with terrible tales of torture and unjust death sentences. These cases are tragic indeed. However, I came across a historical 'witch' whose life happily does not end with a gruesome execution. 
My day of folding laundry, cleaning, and attempting to tweak a cookie recipe to be healthier, took an exciting detour when I stumbled across a rather interesting bit of local history— The Witch of Plum Hollow. 
Having a lifelong fascination with Washington Irving's story of the headless horseman, I recently travelled to New York State to visit the legendary town of Sleepy Hollow. One of my favourite childhood novels is also The Witch of Blackbird Pond by Elizabeth George Speare, so you might imagine how the discovery of a 'Witch of Plum Hollow' piqued my interest. I needed to learn more!
To read the full article, please click here and learn about 'The Witch of Plum Hollow'.