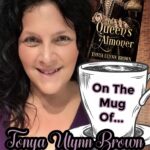 The first in my interview series On The Mug Of… is now available. Find out what's on the mug of Tonya Ulynn Brown, the historical fiction author of The Queen's Almoner.
Why a mug? I feel like mugs are personal snapshots not only depicting what we love or make us laugh, but can also highlight our aspirations. 
Click here to read my light-hearted, virtual chat her.